Partial discharge monitoring is an important way of assessing the condition of the transformer insulation. In the past detecting and analyzing partial discharge in the field has involved costly test set-ups that are prone to noise making these field measurements less sensitive or accurate.
RHM International has developed a bushing based approach for detecting partial discharge in an operating transformer. The RHM International system simultaneously monitors the transformer PD condition and bushing insulation condition by using smart RIF® bushings to couple the transformer's discharge pulse current signals and the bushing's last layer ground current signals through the bushing's built-in Cs capacitance. A signal cable transmits the signals from each smart RIF® bushing to a PD monitoring device for sampling and processing. The more smart RIF® bushings installed on the transformer the more accurate the partial discharge location analysis.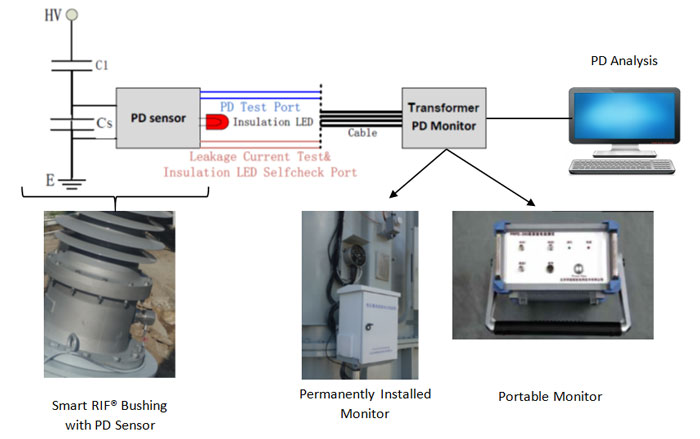 Advantages of the RHM International Built-In Transformer Partial Discharge Monitoring
Simplicity. No accessories or external sensors are installed.
Reliability. It doesn't use the bushing ground layer wire (discharge pulse current signals & bushing ground layer current signals are obtained through Cs).
Full monitoring picture. It monitors the entire transformer insulation condition.
High SNR. Uses direct coupling to collect PD signals so it increases the coupling signal strength and improves the SNR.
Good anti-interference capability. The smart RIF® bushing measurement terminal uses a metal enclosure connected with the flange to form a closed shielding space.
Safety. Has no impact on the safe operation of the transformer (a very low voltage is seen by Cs).