Download the technical brochure for IEEE bushings. PDF
Download the technical brochure for the IEC bushings. PDF
Dry Type Paperless RIF® Transformer Bushing up to 345 kV
RIF® provides state of the art technology for bushings: delivering reliable long-term performance, reduced risk, and lower cost of ownership.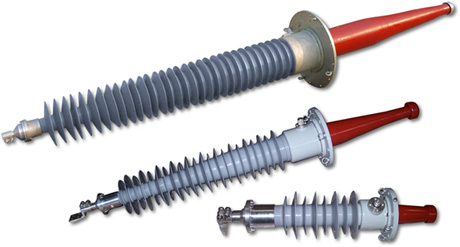 Non-oil, non-gas, paperless, non-porcelain, explosion-free, maintenance-free and environmentally friendly
Solid construction – For tough environments
RHM International has pioneered the next generation of bushing technology: resin impregnated fibers wrapped in a condenser graded structure. Unlike previous alternatives, RIF® bushings have a completely solid construction without any insulation paper – with no room within the core structure for water ingress during operation in tough environments. In addition to the lowest risk of failure, RIF® bushings are projected to last longer without the need for costly maintenance or replacement – and with zero risk of explosion. The RIF® bushing's robust construction provides the utility or transformer manufacturer with the quality and reliability they are looking for in a bushing at a very cost competitive price.
A simple and rigorously controlled production process allowing design flexibility with consistent Quality and one of the best lead times in the industry.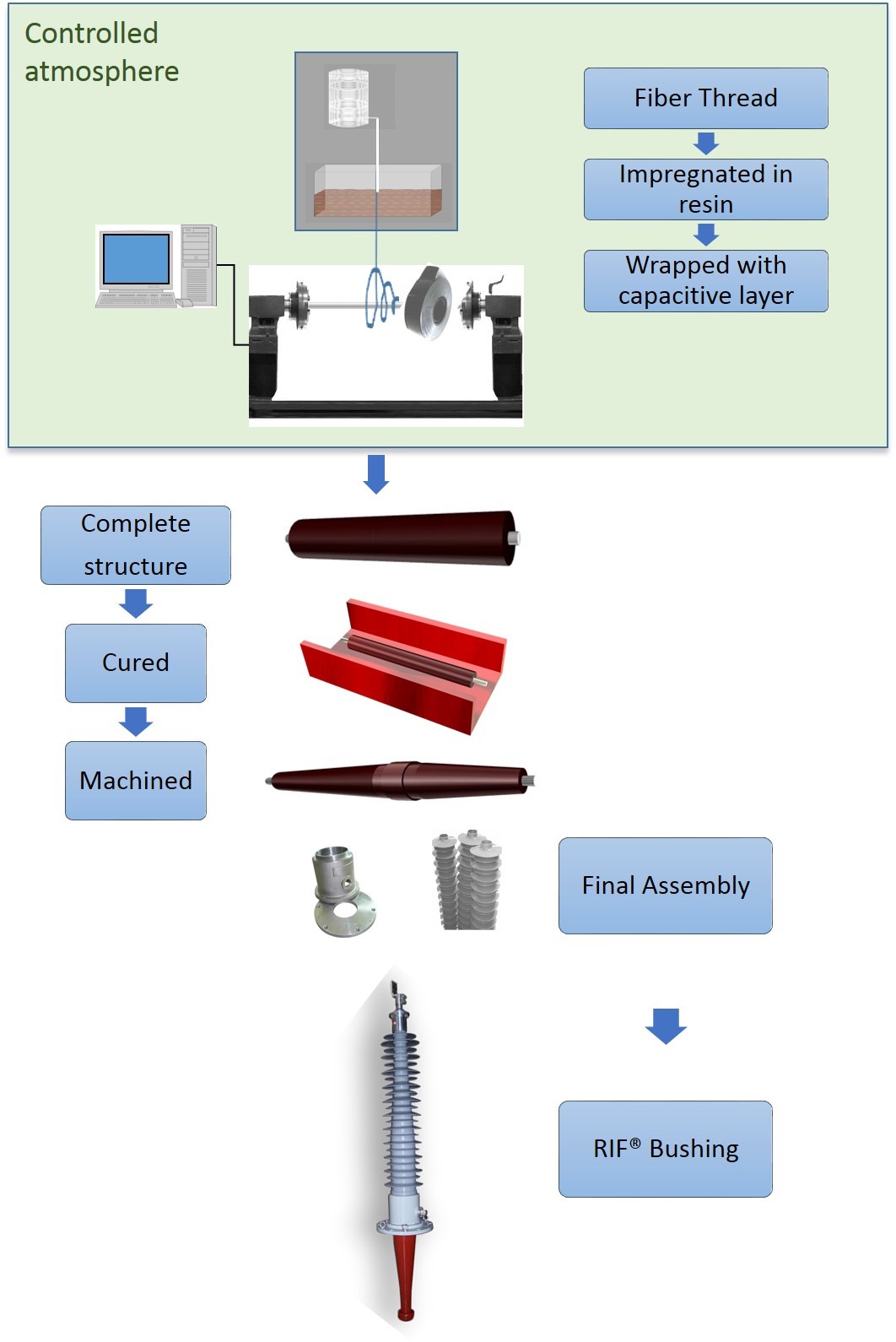 Sound and robust engineering choices
The internal electrical and mechanical stresses of the capacitive core have been decreased significantly by our patented capacitive core internal stress division cushion technology. Our stress-free design significantly improves resistance to cold and heat impulses with a high mechanical load-bearing capacity.
Other direct benefits include very low dielectric dissipation and partial discharge values which remain consistently low once in operation.
Key causes for the accelerated aging of bushings are therefore largely mitigated which results in a reliably longer lifespan.
Silicone Rubber external insulation
As for all of our products, the material of choice for outside insulation is exclusively top quality silicone rubber. Silicone rubber is a growing choice throughout the industry because of its lightweight and pollution resistant characteristics.
Built-in monitoring of core insulation: Tracking the bushing's condition while in operation with LED pre-alarm
The flexible production process of RIF® has allowed RHM to create a built-in large value C2 capacitance (i.e. safe very low voltage across the connection) that acts as a sensor for any leakage current that would be generated by a defective condenser layer. This sensing is connected to an outside LED light that will turn on at a pre-determined leakage current threshold value. The Pre-alarm occurs weeks before such damage could become mission critical for the transformer and require de-energization of the equipment. Concurrently, it is "fool-proof" as the bushing comes operation-ready and does not require any intervention to set up the monitoring before or after installation.
If needed, this same interface can be connected to a control room for continuous monitoring.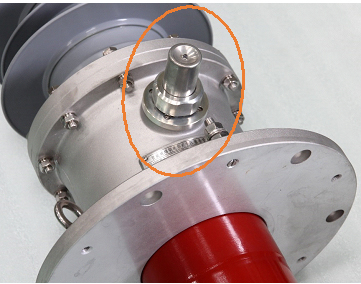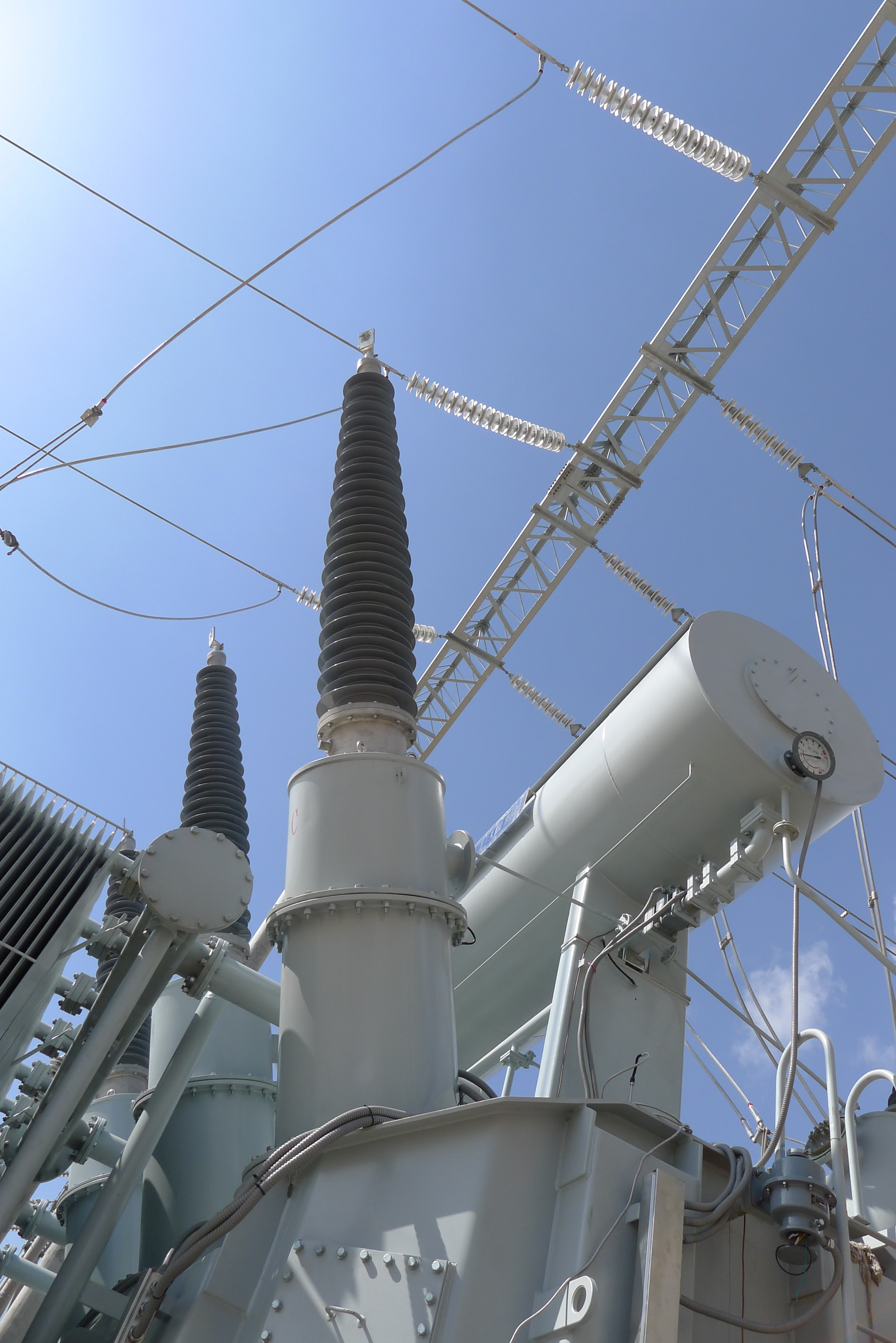 Customer benefits:
Totally safe, no risk of explosion.
Totally maintenance-free, low cost of ownership.
Superior resistance to mechanical and thermal stresses.
Environmentally friendly – no risk of toxic leakage.
Sealed and impervious to water and pollution.
Easy storage simplifies grid management
Built-in monitoring of core insulation condition with early fault alarm fosters full visibility in asset management and avoids emergency situations.
More Information
View our technical papers:
Brochure for IEEE Bushings
Brochure for IEC Bushings