THE FIRST BUSHING INTEGRATED COMBINED LPIT INSTRUMENT TRANSFORMER.
OUR NEW BIIT™ HV MEASUREMENT BUSHING FOR YOUR DIGITAL EQUIPMENT APPLICATIONS

BUILT-IN CAPACITIVE VOLTAGE DIVIDER AND ROGOWSKI COIL CIRCUITS PROVIDE VOLTAGE AND CURRENT SIGNALS
CIRCUITS ARE INTEGRATED INTO THE TYPE TEST VALIDATED, EXPLOSION – RESISTANT AND ANTI-SEISMIC RIF® BUSHING. THE DRY TYPE RIF® TECHNOLOGY IS PAPERLESS AND ASSURE A FULL RESISTANCE TO HUMIDITY
NO ELECTRONIC COMPONENTS AT THE HIGH VOLTAGE END
PROVIDED WITH ONE SUPPLY AND ONE BACKUP SIGNAL COLLECTOR THAT CAN BE INSTALLED AT GROUND LEVEL ON THE SUPPORT COLUMN OF THE OPERATING EQUIPMENT FOR SIGNAL RELIABILITY AND CONVENIENT MAINTENANCE
A MAINTENANCE-FREE BUSHING THAT HAS BEEN TESTED FOR ALL EXTREME ENVIRONMENTAL OPERATING CONDITIONS
ONLINE PARTIAL DISCHARGE MONITORING OF THE OPERATING EQUIPMENT.
The Integrated Measurement (LPIT) Technology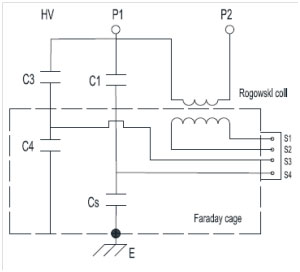 C1 – main capacitor rated for the system voltage
Cs – low-voltage capacitor that extracts the voltage signal
C3 – anti-interference capacitor
C4 – information collection capacitor
The electronic voltage transformer function is realized by measuring the terminal voltage on Cs.
The electronic current transformer function is realized by using the principle of Faraday electromagnetic induction with several large air-core coils installed inside the grounded flange and outside the grounding screen.
Online partial discharge monitoring is realized using RHM's patented monitoring technology that uses C4 to collect pulse current signals.
Applications for this Technology
The new HV measurement bushing with integrated LPIT has allowed RHM International to develop unique types of digitalized equipment for substations, some examples of which are: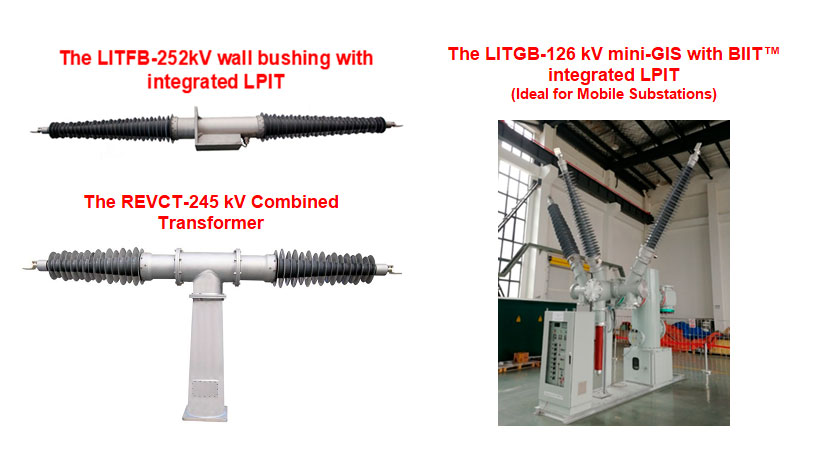 How can we help you in your digital development? Contact us.