Optical/Electronic Current Transformer GDGL
A new remarkable advancement from RHM International

Optical/Electronic GDGL Series Current Transformers
40.5 to 252 kV
Future applications will gradually open opportunities for full digital systems and  Current Transformers will follow this path. Under the denomination of Optical or Electronic Current Transformers they allow a direct digitalization of the current sensing that is transmitted to the local control system.
Existing optical CTs are based on a sensing configuration that needs to be installed on and powered by the primary line. The RHM solution uses the same primary HV DryShield® winding around which a Rogowski coil is inserted.  This combines the same long term reliability of the electrical insulation while allowing the benefits of an electronic configuration.
Different configurations can be offered that allow for different digital conversion time lines while maintaining the DryShield® insulation system.
This generates 3 major advantages for our customers:
No need for a reconfiguration of your substation layout: the new optical CT can be installed in the exact place where a traditional CT was in operation before; the same support can be used and the user benefits from a "plug & play" experience.
Upgrade from traditional to digital/optical at minimum cost and time: if the user needs to replace some CTs today while knowing that eventually the system will evolve towards a digital configuration, RHM can provide a LRGBJ-V CT equipped with the sensor needed to turn the CT into an optical version (when the rest of the station has been upgraded). This saves time and money. Our team would come on site and insert the electronic circuitry while activating the sensing coil already in place.
Operate the two options at the same time: Furthermore, some of our customers have asked for a dual CT provides both an analog and digital signal at the same time.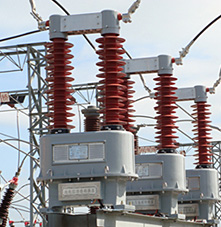 This unique design allows a remarkable flexibility in introducing digitalization in current transformer operation at a minimum cost.
Rated insulation level and partial discharge:
Highest Equipment
Voltage kV
(r.m.s)
Rated Power
Frequency Withstand
Voltage
kV
(r.m.s)
Lightning Impulse
Withstand Voltage
kV
(r.m.s)
Partial Discharge
Measurement Voltage
kV
(r.m.s)
Partial Discharge level
pC
40.5
95
185
28
5
72.5
140
325
50
5
126
230
550
87
5
252
460
1050
175
5
Ambient temperature: -40C to+85C
Characteristics: apart the properties listed above the GDGL Series has all the advantages of our classic LRGBJ Current Transformers.
It addition they provide unique benefits:
High accuracy over wide dynamic range
Wide bandwidth
No saturation
No noise
Highly Stable