Cascade_HV DryShield® Current Transformer – ZH Series
Lighter, Safer & Easy to Install HV DryShield® CT for Extra High Voltage (EHV) Applications
Our cascade (double-decker) CT design operates at a higher voltage class from two assembled parts of lower voltage classes. They are generally used for voltage classes of 220kV and above. The secondary winding of the top section is in series connection with the primary winding of the bottom section. The bottom section can provide several secondary windings according to user's requirements. Figure 1 shows the construction of the double-decker CT LRGBJ-ZH-600 as an example.
Figure 1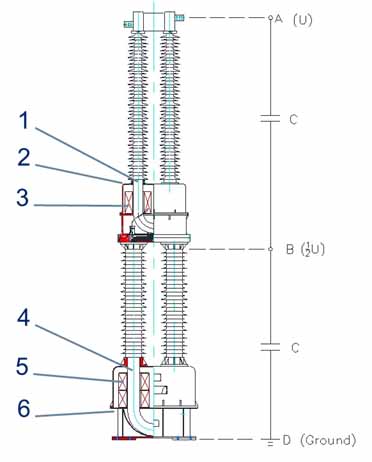 1— Upper section's primary winding
2— Top section's box
3— Top section's secondary winding
4— Bottom section's primary winding
5— Bottom section's secondary windings
6— Bottom section's box
A simpler insulation structure is therefore achieved as the applied voltage is equally split over the top and bottom sections.
The top section's primary winding is series-connected with the grid and is at high potential. The ground shield of its primary winding, secondary winding and box, as well as the bottom part's primary winding are connected and are at intermediate potential. The bottom part's secondary winding and box are at earth potential.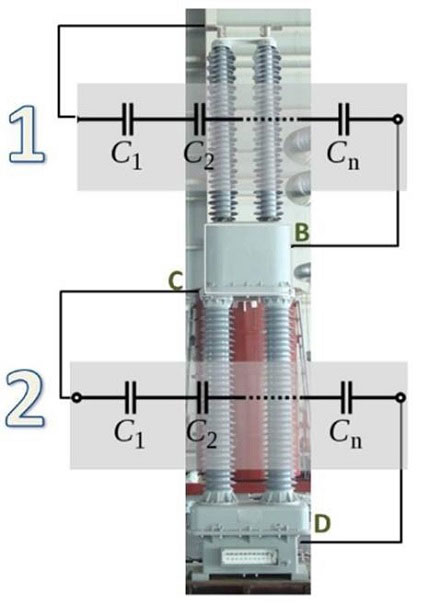 LRGBJ-ZH 600 – 600kV
Benefits of the Cascade Design
Cascade CTs fulfill metering and protection functions with 2 cascaded partial primary windings connected in series
It reduces quantity of insulation materials used, keeps manufacturing simpler, reduces lead times, hence reducing costs. As primary core insulation thicknesses are proportional to the square of the rated voltage very large amounts of insulation are needed at EHV levels. As each section of the Cascade CT manages half of the rated voltage the overall design is much lighter than an equivalent single core design. The higher voltage class a CT has, the more materials this design saves.
The parts are smaller and lighter-weight when compared to classic units therefore making it easy to transport. The upper and lower parts can be transported separately, greatly reducing the product's shipping dimensions. Installation users only need to series-connect the top part's secondary winding and the bottom part's primary winding and then assemble and secure the 2 parts. The entire installation process is quite straightforward
And, all benefits of the HV DryShield® technology are retained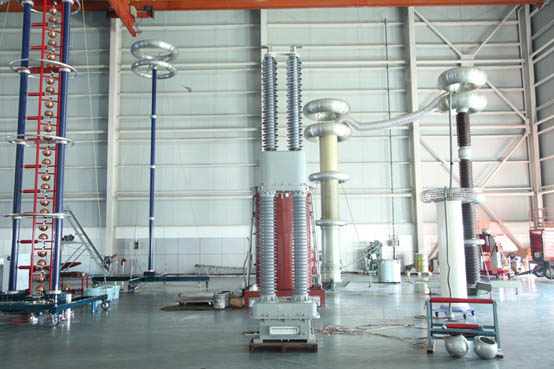 LRGBJ-ZH-300 in routine tests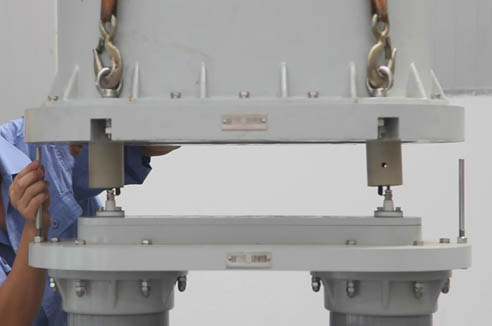 The 2 sections are easy and straightforward to assemble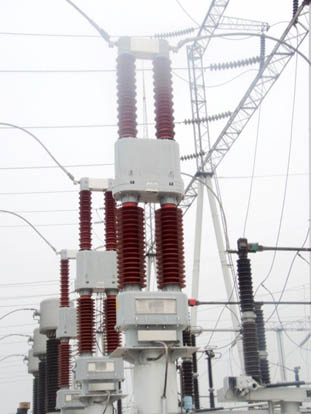 LRGBJ-ZH-220
More Information
To view our brochure, click here.