Wall Bushings Up to 252 kV
A bushing is quite simply a device which enables one or more conductors to pass through a partition, such as a wall or a tank, and insulates the conductors from this partition. The attachment device to the partition, be it a flange or any other fixing device, forms part of the bushing, while the conductor may or may not be an integral part of the bushing.
RHM bushings belong to the category of bushings called condenser bushings, or capacitance-graded, in which the desired voltage grading is obtained by an arrangement of conducting materials or semi-conducting layers incorporated into the insulating material.
What stands RHM original bushings aside from those traditional products is the nature of insulator materials used and the way they are brought together:
The main core insulation material is an inert high characteristic polymer such as PTFE, in which conductor foils are inserted.
The bushing is then sealed with a silicone rubber outside insulation whose sheds provide large creepage distances in all service conditions. The hydrophobic (a natural ability to repel water) nature of silicone rubber helps create separate droplets which reduce leakage current, prevents flashover, and elevates the withstandable voltage threshold in wet and highly polluted environments.
These different complementary features provide RHM bushings with best-in-class partial discharge and tanδ levels, ensuring a highly stable and safe working bushing over a very long operational life.
In addition, the dry type nature of the core insulation eliminates any risk of leakage due to cantilever forces acting on the flange of wall bushings.
Key benefits for our customers are:
No risk of explosion - protect your people and equipment
Genuinely maintenance free - unmatched return of investment with a long lasting equipment
Raise reliability level in the grid – reduces downtime probabilities
No risk of toxic leakage - environmentally friendly for indoor crew
Lighter than conventional technologies - more versatile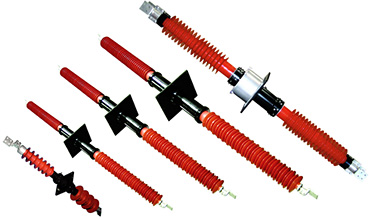 More Information
To view our technical papers, click here.