IEC 61850 will bring major changes to how utilities design their substation installations and conduct business. We are seeing more and more installations of substation protection and control (P&C) systems that are based on the IEC 61850 communication systems as utilities start to recognize the cost advantages of eliminating the expensive point-to-point wiring of traditional systems, reducing their time-based maintenance testing and being able to add and replace interoperable product types or platforms without major reengineering work and having to schedule difficult to get maintenance outages. In addition, an ethernet network-based P&C system can collect and manage large amounts of system data which helps the utility better run its business.
To meet the demands for IEC 61850 ready products RHM International has developed a dry type low power combined electronic voltage and current transformer (eVCT for short). The use of RHM International's mature dry type primary insulation technology makes it a seamless transition to IEC 61850 operations. The measurement functions of the eVCT are based on measurement of the voltage using a capacitor voltage divider and current using a Rogowski Coil. As shown in Figures 1 and 2 the eVCT uses a unique dry type capacitive high-voltage bushing insulation structure with three sets of capacitive screens as a primary winding: C1 is a voltage-grading capacitor group for high-voltage insulation, Cs is a voltage-dividing capacitor group made according to the design requirements, and C3 is a shielded capacitor group designed for interference immunity. Using this capacitive design, a voltage signal source with a simple structure, strong stability and a high precision level can be obtained.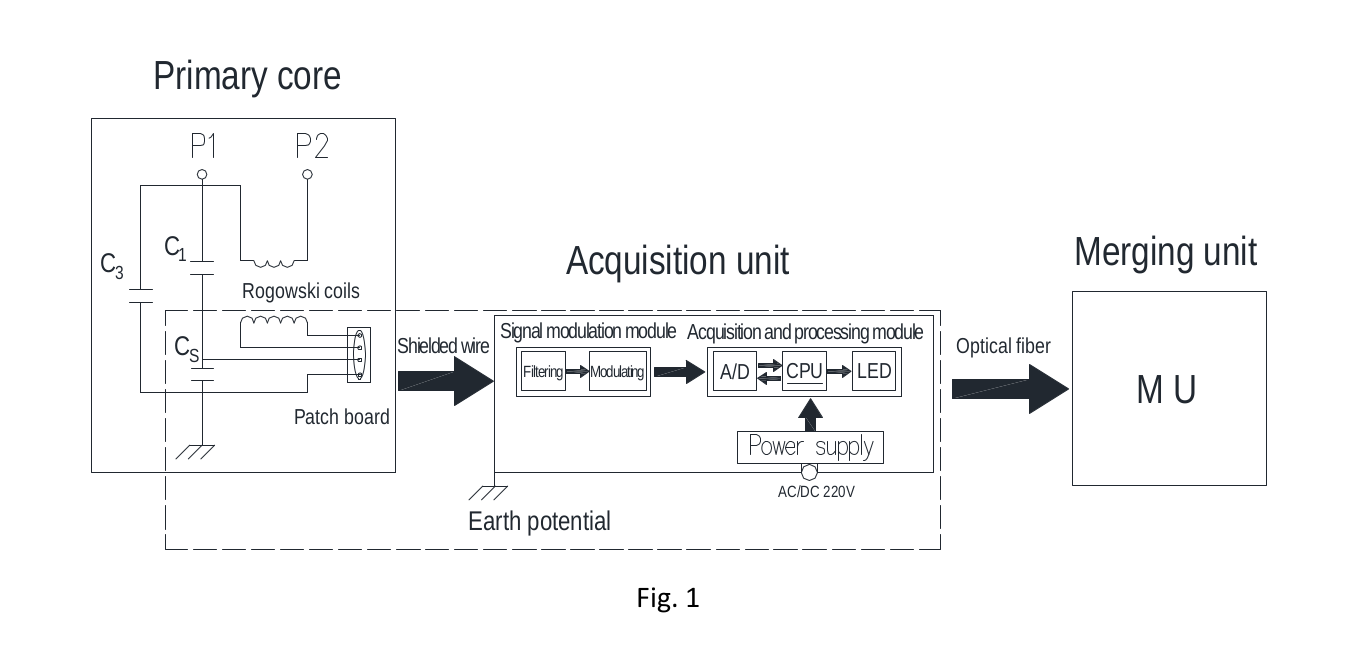 An acquisition unit converts the recorded data into a digital serial protocol and transmits them via optical fiber to the Merging Unit (MU) located in the control room. The fundamental difference from other electronic instrument transformers in the market is that the collector (Rogowski Coil/capacitor voltage divider) and the acquisition unit are at earth potential (see Figure 1). By installing these devices at earth potential the problems of electromagnetic interference, instability and power supply are easily solved and maintenance is more convenient.
eVCT Specifications

Rated voltage:

35~ 1000 kV

Rated frequency:

50 Hz, 60Hz

Rated primary current:

100~4000A

Accuracy level current:

Accuracy level voltage:

0.25s/5P

0.2/3P

Accuracy limit factor:

20, 25, 30, 35, 40

Sampling frequency:

80~256 points/week

Rated secondary output: (measuring) voltage:

Rated secondary output: (measuring / protection) current:

2D41H

2D41H/01CFH

Rated short-time thermal current:

50kA, 3 sec

Rated dynamic current:

125kA

Electromagnetic compatibility immunity

Assessment Criteria A

Communication Protocol

IEC61850-9-2LE

Power supply:

DC 220V/0.1A

Ambient temperature:

-40 °C to +70 °C